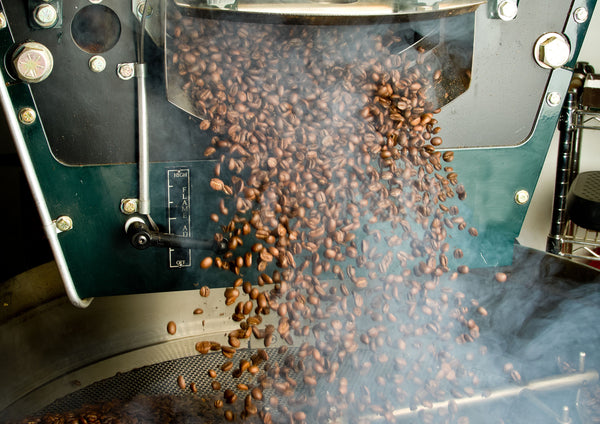 Answers To Your Questions
If you need additional answers, please contact us whatever way works best for you.

Call: 855-585-2500
Text: 949-289-8083 Email: service@cepros.com Submit request form on our contact page.
What is CEPros' mission and reason for being in business?

At CEPros, we believe roasters need to roast. That's what you do best. And we're doing our best to make sure that happens.

As coffee equipment experts and coffee aficionados, we're passionate about equipping you with carefully vetted options to create the ultimate roasting machine line-up.

Read about Our Why.
Do you get involved in coffee plant consulting?

Yes, we offer coffee plant/roastery consulting services. With 20 years of experience, our team provides expert guidance on various aspects of coffee roasting, including equipment selection, roastery plant design and layout, quality control, and more. We are dedicated to helping you achieve success in your coffee roastery venture. Contact us for personalized consulting support.
What are your hours of operation?

Our business hours are 9am to 6pm CST but you are always welcome to text Rick absolutely any time at 949-289-8083. We're always here to help.
Do you offer purchasing advice or tips apart from a phone call?

Yes. To simplify your decision-making process, our expert team has developed comprehensive buyers guides tailored to your specific stage and interests in the coffee-roasting journey.

These recommendations are based on our close relationships with roasters like you, spanning all levels of experience. We understand your unique requirements, and our curated collections are designed to alleviate overwhelm and eliminate guesswork.

Take the time to explore these valuable guides, and when you're ready, reach out to us for a personalized consultation. We're here to help you make informed choices that set you up for success.
What Buyers Guides do you provide?
Coffee Roasters and Roastery Equipment
What kind of coffee roastery equipment do you represent?

The culture here at Coffee Equipment Pros is all about providing the customer what they need to fulfill their roastery vision. In doing so, we've selected elite coffee equipment manufacturers to represent and sell their products to our customers.

We represent:
What is equipment bundling?

Coffee equipment bundling lets you combine ancillary coffee roasting equipment and/or a coffee roaster into a single package or offering, often at a discounted price. This can include items like destoners, grinders, K-cup fillers, and sealers. Bundling eliminates the need to shop for individual items separately, saving time and potentially reducing costs. Learn more about how you can save with equipment bundling and one-stop shopping.
What is the lead time on a new Toper Roaster?

In-stock Toper Roasters are available to ship to you immediately after your purchase has transacted.

Shop roasters currently have a 10-12 week lead time.

Industrial roasters' lead time is based on the amount of ancillary equipment included with your purchase. Expect an average lead time of 12-16 weeks.
I'm interested in having my coffee roastery-related products represented on your site. What's the next step?

The culture here at Coffee Equipment Pros is all about providing the customer what they need to fulfill their roastery vision. In doing so, we've selected elite coffee equipment manufacturers to represent and sell their products to our customers.

If you feel your product would fit well in our showcase, we'd accommodate the opportunity to explore. 

Please visit our Manufacturer Network page and submit the form with your details, and we'll be in touch. Or, you can also call or text us!
How many lenders receive my application?

Our double-digit lender network is constantly growing; however, our technology matches your application with only those lenders most likely to offer the best rates. Our goal is to deliver the best 3 finance offers for you to compare followed by additional options if required. It's the ultimate concierge-style service.
Does applying for financing here impact my credit score?

There is no impact on your personal credit unless a personal guarantee is required. Personal guarantees will have an inquiry on their credit by some lenders. Because these credit inquiries happen in a short timeframe and for the same products, credit bureaus recognize them as part of a normal shopping process. They will view them as a single credit inquiry by lenders.
How long does the application process take?

Established businesses with strong commercial credit can be approved instantly. If lenders need additional information from you, the quicker you provide the required information, the sooner a decision will be made. It's not unusual for decisions to be made within hours once the necessary information has been gathered.
How flexible are your financing options?

Our financing program is fast and flexible! Once you select the financing offer that's right for you, it will include several payment amount and term options for you to select from based on your credit and amount financed.
Can I finance equipment other than a new roaster?

Yes! You can finance anything you purchase from CEPros, including our new ancillary and Used Elite equipment. You can even finance our Tek-Net service packages!
What is your Buyers Guarantee?

We stand behind our reputation and commitment for a professional, transparent, and expeditious equipment selling and buying experience.

Our Buyers Guarantee consists of our Buyers Pledge and our QuickPay Promise.

View our Buyers Guarantee in full on our Service Guarantee page.
What is your Sellers Guarantee?

We stand behind our reputation and commitment for a professional, transparent, and expeditious equipment selling and buying experience.

Our Sellers Guarantee consists of our seller experience and QuickPay Promise.

View our Sellers Guarantee in full on our Service Guarantee page.
What makes Tek-Net unique?

Having sold hundreds of roasters and roastery equipment, we know it is critical to get your roaster set up right from the start. We've found too often that when a customer reports an issue with a roaster, it's usually attributable to something with the setup, and not the roaster itself.

This "tech-first" approach means your roasting livelihood is supported. And, we think we're the only coffee equipment supplier to offer such a service.

Our Tek-Net, comprised of USA-based licensed roaster technicians and four service packages, is just one more way we demonstrate you that a roaster sale is just the beginning of our relationship.
What are the benefits of utilizing CEPros Tek-Net and purchasing a service package?

When we set up your new or Used Elite coffee roaster to integrate seamlessly into your coffee roastery, you should see performance and profit gains quickly. You'll minimize training lag (eliminate learning curve with tech assistance), hit roasting quotas (achieve full production performance quickly), and increase profits (start producing coffee faster with less waste and minimal downtime).
How many service packages do you offer?

Our Tek-Net provides four service packages: Basic Tek-Pak (virtual support), Shop Install-Pak, Industrial Install-Pak, and a Maintenance-Pak. The Tek-Pak is included with every Toper and Air-Motion purchase. All packages can be purchased for new or Used Elite inventory, and are eligible for inclusion in financing.
Are any Tek-Net service packages included in the purchase of a new roaster?

Yes. Our Basic Tek-Pak (virtual phone and video support) is included in the purchase of a new Toper Roaster or Air-Motion Roaster. It, along with our other service packages, can also be purchased for any new or Used Elite roaster in our inventory. Any service package cost is also eligible for financing. Contact us for details and pricing.
Are your Tek-Net service packages available for Used Elite equipment?

Yes, you can purchase a Tek-Net service package for Used Elite roasting equipment purchased through CEPros. Please contact us for details.
Used Elite: General Information
How do you source your Used Elite inventory?

One word: RELATIONSHIPS. As coffee equipment sales experts — and given how small and tight-knit our beloved coffee-roasting community is — we're always talking to our coffee-producing friends about what they're roasting, and what they're roasting on. Because of the trust and partnership we've built with our customers, we operate on reputation and referrals — along with our proven and refined marketing and networking strategies. If you have further questions about how we source our Used Elite inventory, please contact us. We'd like to chat with you!
What can I expect in the Used Elite sales process?

We keep you informed of status and the next steps during the entire process by phone, email, text.

The four main components of this process include: 1) transacting and signing of purchase and sale agreements, 2) confirmation of received payment, 3) equipment crating, freighting, and delivery or buyer pick-up (and notification to buyer each step of the way), and 4) follow-up with buyer to ensure safe delivery.
Once a Used Elite equipment sale has transacted, what's involved in relocating the equipment?

Once the seller confirms full payment has been received, CEPros will move on the previously scheduled equipment prep and engage the crating company and freight company. Or, if optioned, CEPros will facilitate a buyer pick-up.

CEPros requires crating companies to take photos of the equipment crating that are reviewed and approved by us before freight is scheduled.
This assures a safe equipment transport.

Once the crating photos have been approved, CEPros notifies the buyer the equipment is ready to ship and confirms the delivery address and buyer's schedule.

All shipments are insured and include an appointment delivery time that works with your schedule.

Learn more about our Service Guarantee.
How do you vet the roasters and roastery equipment you accept into your Used Elite inventory?

At Coffee Equipment Pros, we utilize an in-depth video vetting process to protect and represent both sellers and buyers. Rest assured, we only work with fully functioning machines in excellent condition. Our video interview with the seller allows our thorough assessment and ensures machine current condition and functionality. We invite you to subscribe to our YouTube channel, so you'll be the first to be notified whenever we release new video listings.
Do you offer financing for your Used Elite inventory?

Yes! We offer financing for both new and used equipment through our lending program, CEPros Select. Our private, concierge-style, competitive lending program puts the nation's top lenders to work for you.

You apply through our quick online application, choose from competing lenders, and start earning by getting that equipment to work to start earning revenue.
Are your Tek-Net packages available for used equipment?

Yes, you can purchase a Tek-Net service package for Used Elite roasting equipment bought through CEPros. Please contact us for details.
Used Elite: Buyer Information
What's the process when buying a used coffee roaster or roasting equipment?

If you're here to buy a used coffee roaster, congratulations! You're in the right place. There are a couple of quick ways to get started.

First, browse our inventory of used coffee roasters. If you find something you're interested in, you can click the REQUEST A QUOTE button on any product page and we'll contact you to discuss details.

Second, if you don't find exactly what you're looking for, fill out our Equipment Request Form. Tell us what you're seeking and we'll get to work to find it for you! We often have leads through our extensive network on used roasting equipment that might be just the right fit for you.
What is your warranty on your Used Elite roasters and roastery equipment?

Used Elite roasters and roastery equipment are sold as-is with no warranty. However, we vigorously vet each roaster and piece of equipment we list in our Used Elite collection to ensure it is in optimal working condition upon purchase.

You also have the option of adding a Tek-Pak to your purchase (eligible for financing) for additional virtual support from us.
What is your QuickPay Promise?

We offer every Used Elite Seller our QuickPay Promise. Meaning, the moment you transact your equipment purchase, we immediately process payment to the seller.

What this means to you is no distractions, no delays, and no excuses in getting your equipment to you. Because, at CEPros, we know that Roasters Need to Roast. And that means getting that piece of equipment to you and to work as quickly as possible.
Where can I find your Equipment Request Form?
Used Elite: Seller Information
How do I list my used coffee roaster or roasting equipment to sell on your site?

Just take a few moments to fill out our Equipment Request Form. Include the requested basic information about your coffee roaster or roasting equipment, including images. We'll follow up with a call to review.

We require large, clear, and nicely lighted equipment imagery. Remember, these pictures are making a first impression to our buyers!
How long does it take to sell my used coffee roaster or roastery equipment with CEPros?

We ask our sellers to give us a 45-day exclusive time period to dedicate our resources to selling your roaster or roastery equipment.

Why 45 days? It takes time for your listing to be properly indexed online to gain exposure, and for us to build and implement customized marketing efforts including social media (organic and paid), SEO/SEM campaigns, target e-blasts and calls to our network, etc.

Learn more about our equipment-selling process and our Service Guarantee to you.
How soon after you sell my equipment do I receive my money?

As an Elite Seller in our Used Elite program, you'll benefit
from our reliable payment process:

• You'll receive IMMEDIATE PAYMENT upon CEPros receiving the
buyer's full payment and when all logistical arrangements are handled.

• This immediate payment will be made before the equipment
leaves your possession — working around your schedule for equipment prep and
pick up by the buyer, crating company, or freighting company.

Rest assured, CEPros ensures that all Elite Sellers receive
100% of their payment before their equipment is released from their possession.
We prioritize your peace of mind and guarantee a secure and efficient payment
experience every time.
How do you promote and market my used coffee roaster or roastery equipment to help ensure a sale?

We utilize a lot of tools in our marketing toolkit to maximize your chances of finding the perfect buyer. We create a custom listing with your approval, and we promote your equipment through our website, YouTube channel, SEM campaigns, social media, targeted emails to our opt-in database, and more. Please see our Service Guarantee for more details.
Where do I find your Equipment Listing Form?